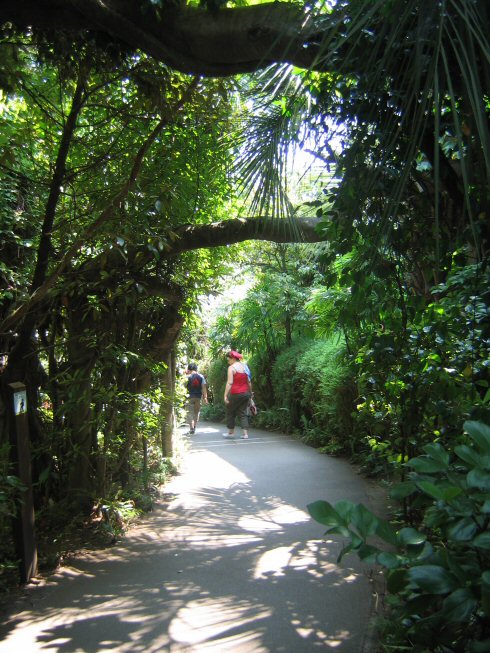 This creature looked so goofy I wanted to take it home for our cat Nella, anything that goofy-looking must come awfully well along with her.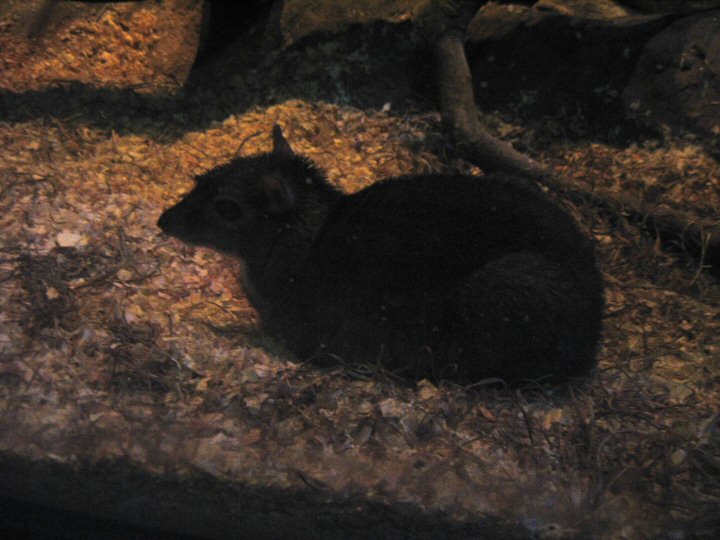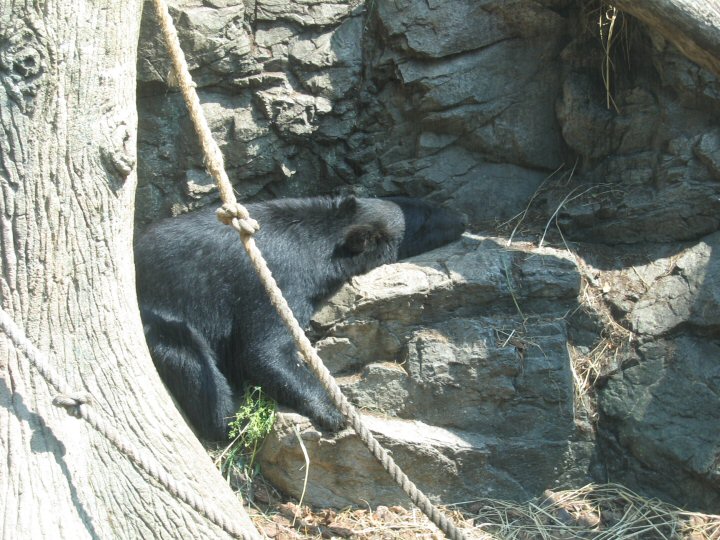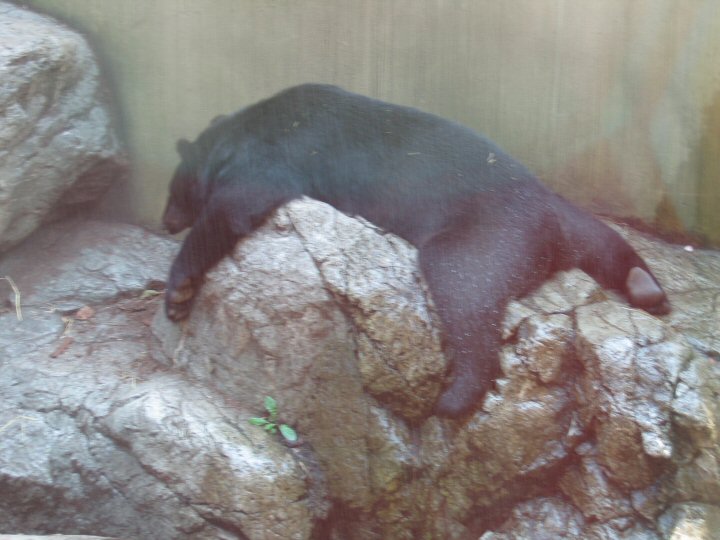 A golden pavilion Thailand had given them as a gift to mark the "120th Anniversary of Diplomatic Relations" between Thailand and Japan.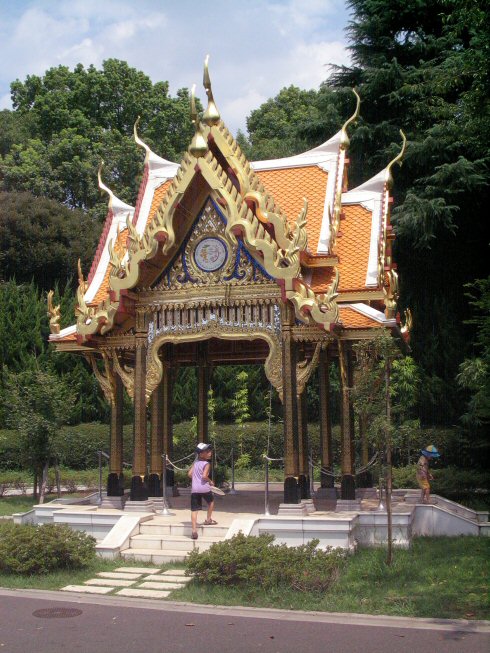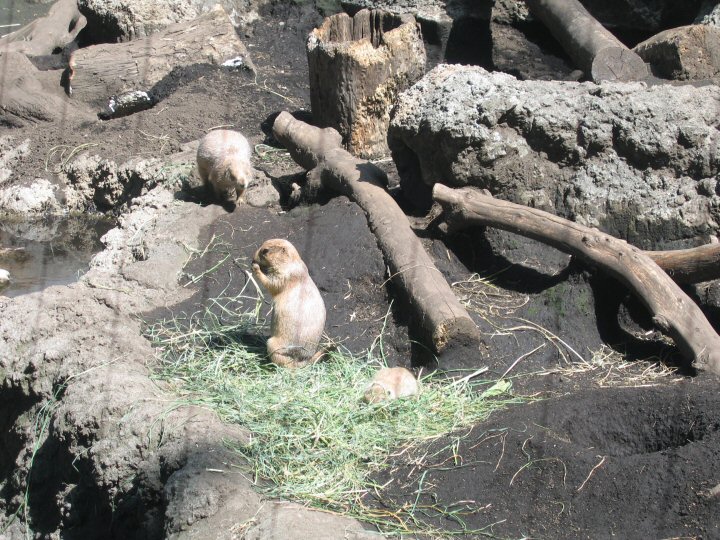 LLAMA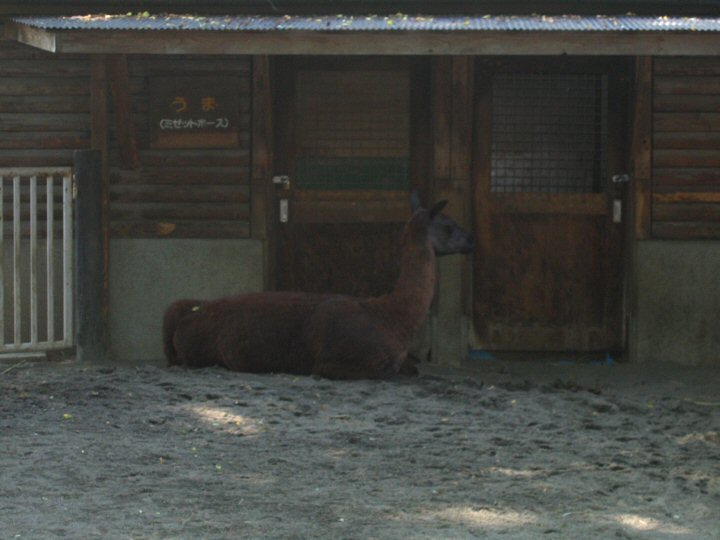 Penguins were pretty awesome.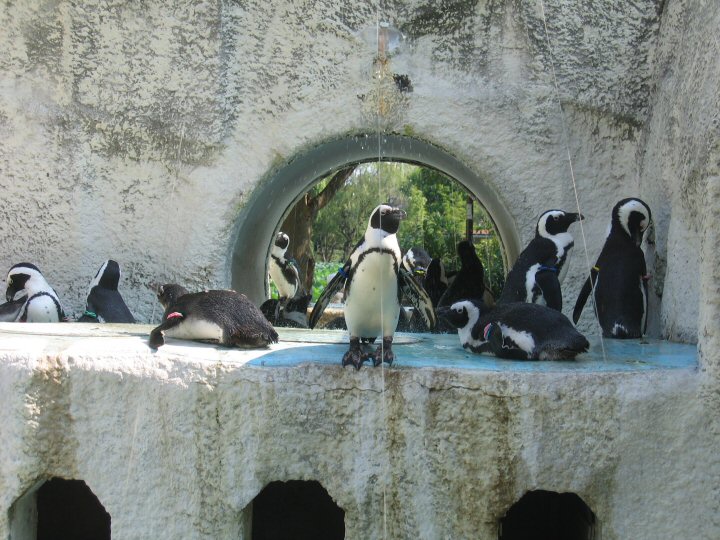 ...I had no idea they're called that though. 8I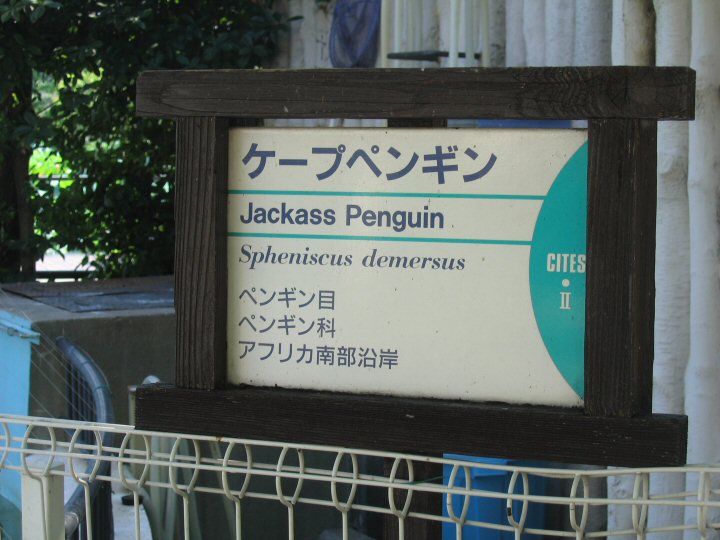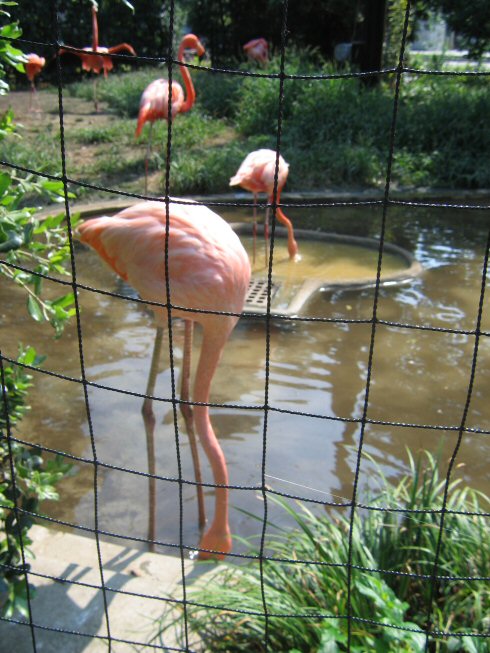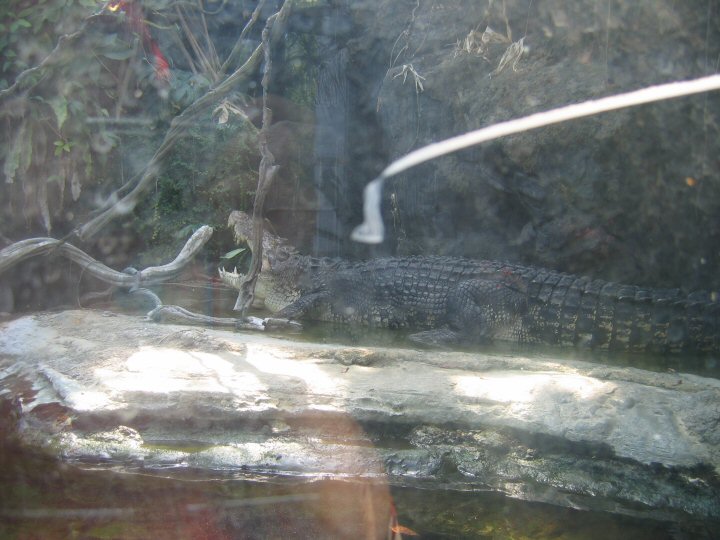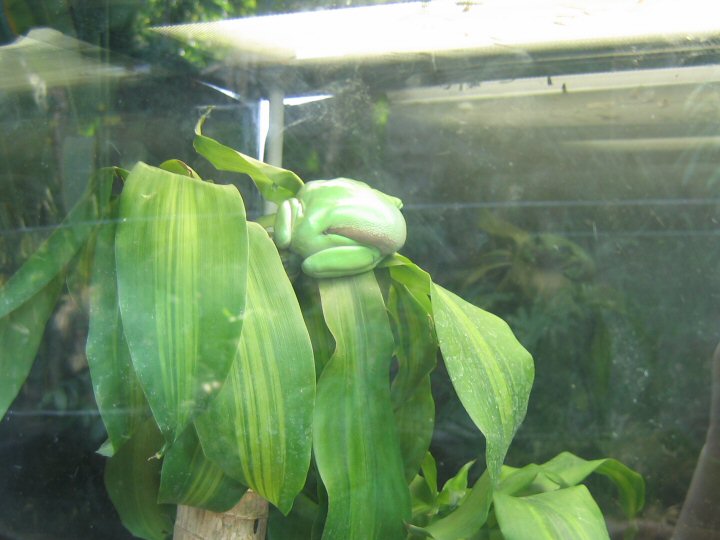 Clever thing, cooling off in water with only its nostrils on the surface.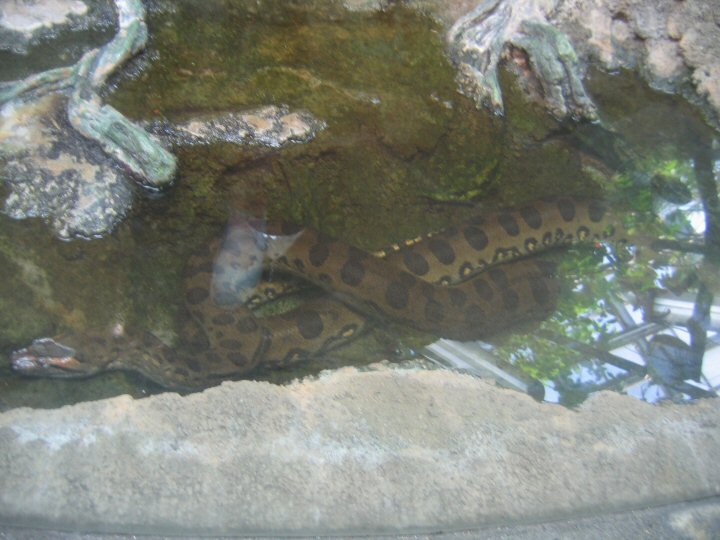 (Remember kids, hippos are ruthless killers.)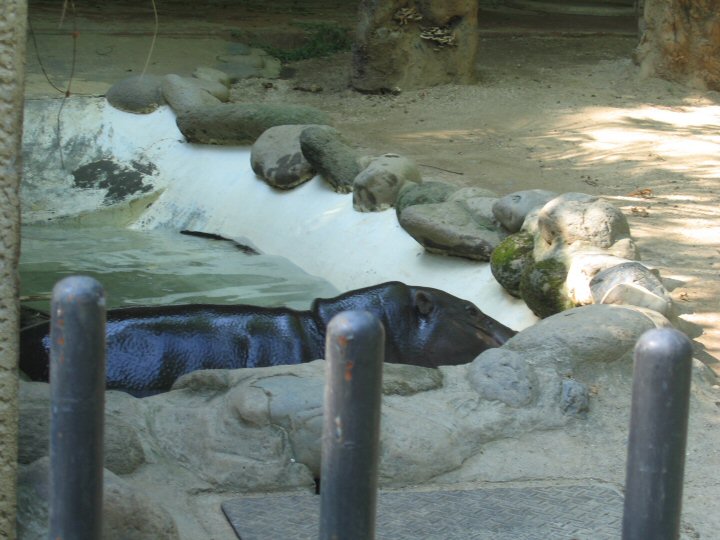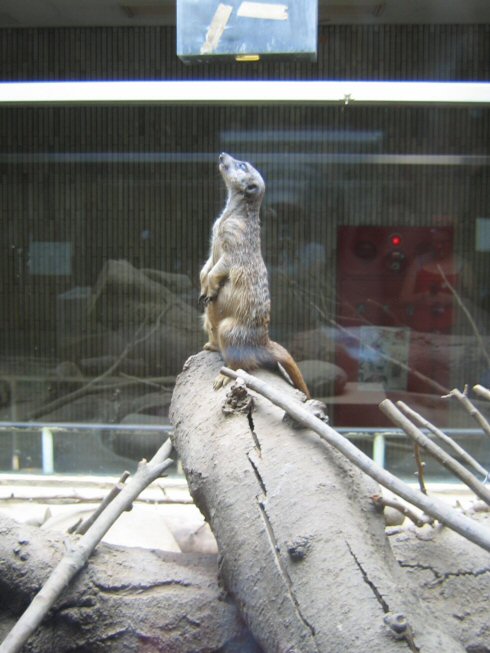 Pallas cats were the cutest things, omg. ;_; If only I had got better photos of them.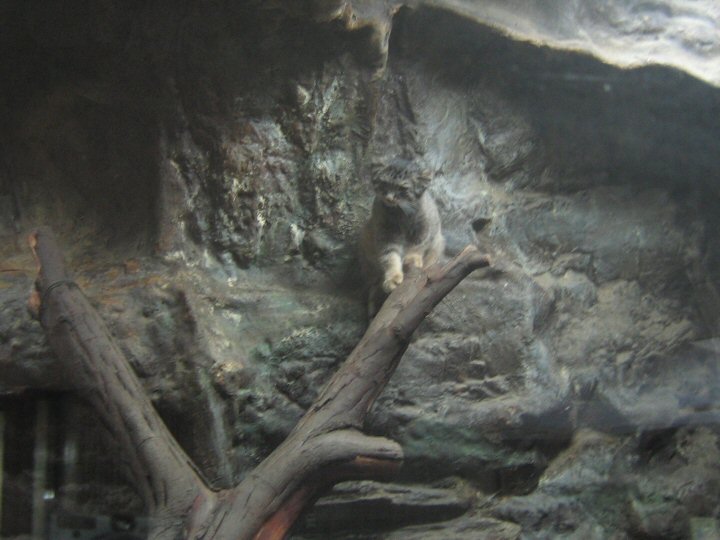 A football.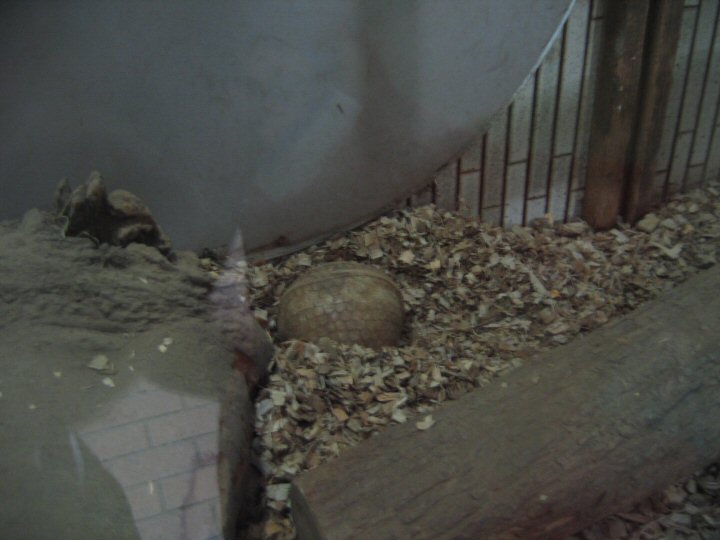 Someone stop that football, it be running away!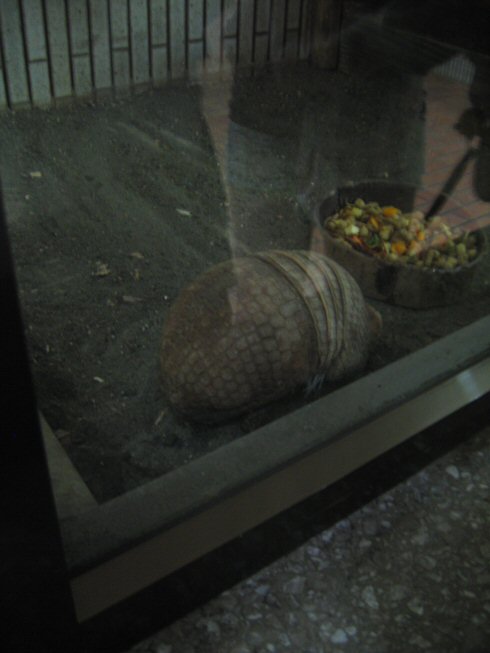 An awesome sight, they put that bottle on the other side of the fence for the ant eater so you could see how very long its tongue is.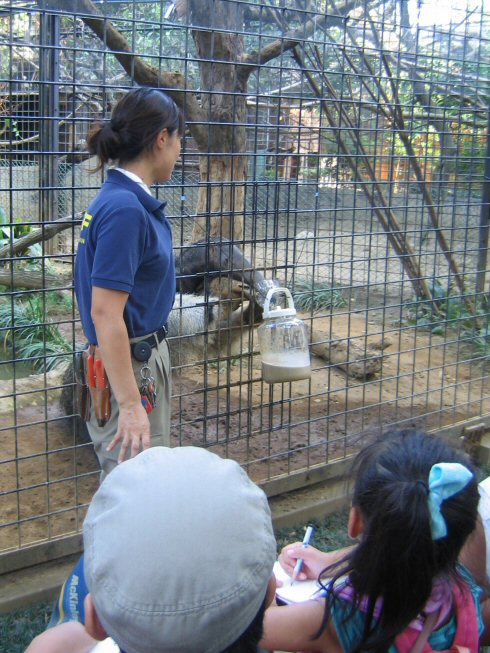 ...I found this English note hanging from a tree. :I (On the other side it said that no, poop does not fall on you because sloths always go defecate on the ground and never when they hang from the trees. Good to know.)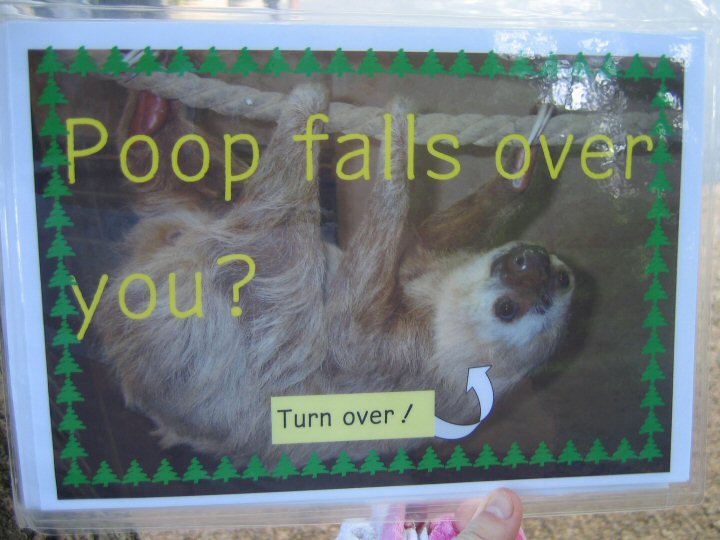 Left for the train station, and in the park I suddenly spotted this very intriguing-looking torii gate.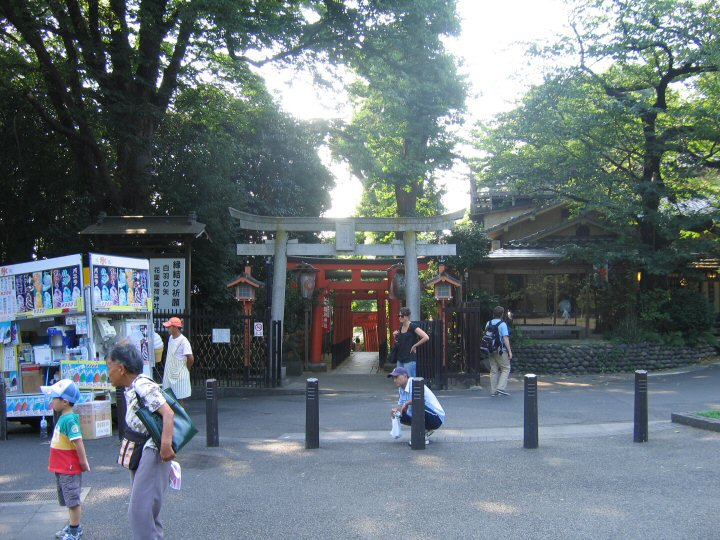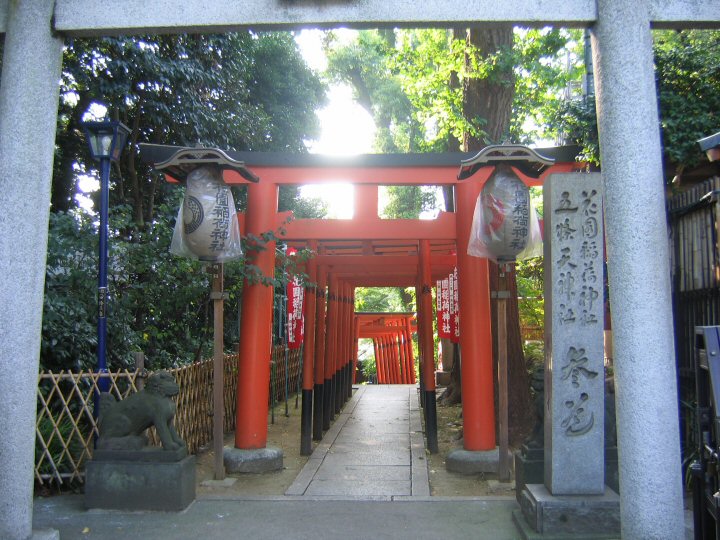 And what is this, one of the things we had had no time for on this trip was to visit Sasuke Inari Shrine that would have had lots of red torii gates and other neat things, I was sad to miss that as I do love the look of those, but all of a sudden on the very last day I found this little place with torii gates next to each other like this. :D A very beautiful place.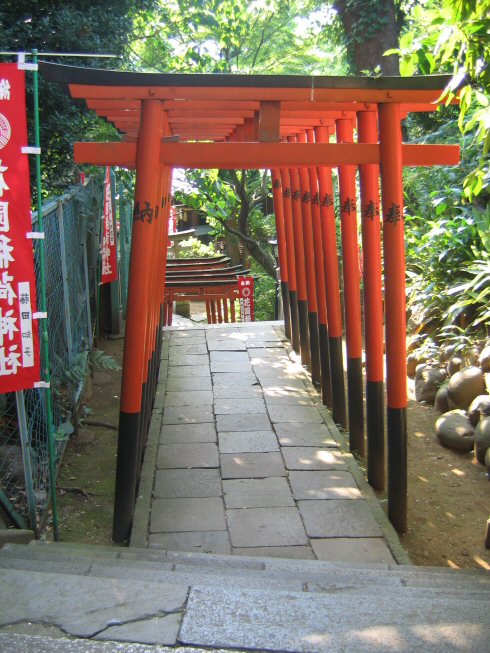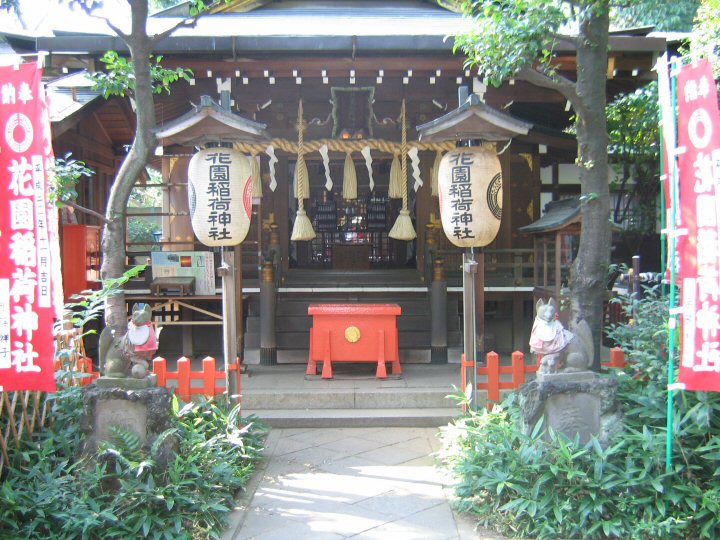 ...There's probably a reason for that little bow, but I just found it cute. XD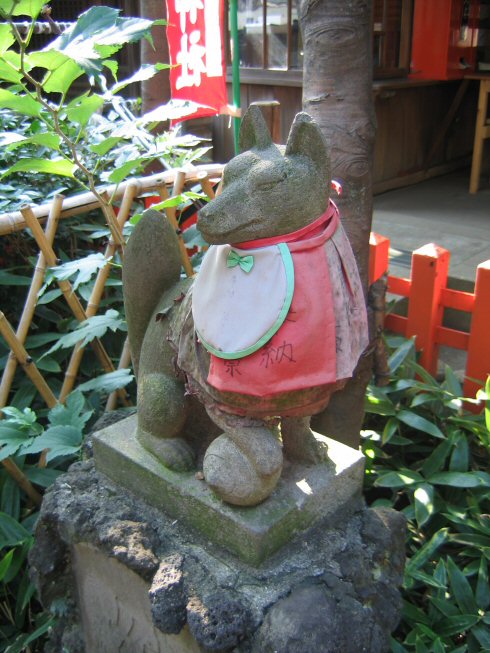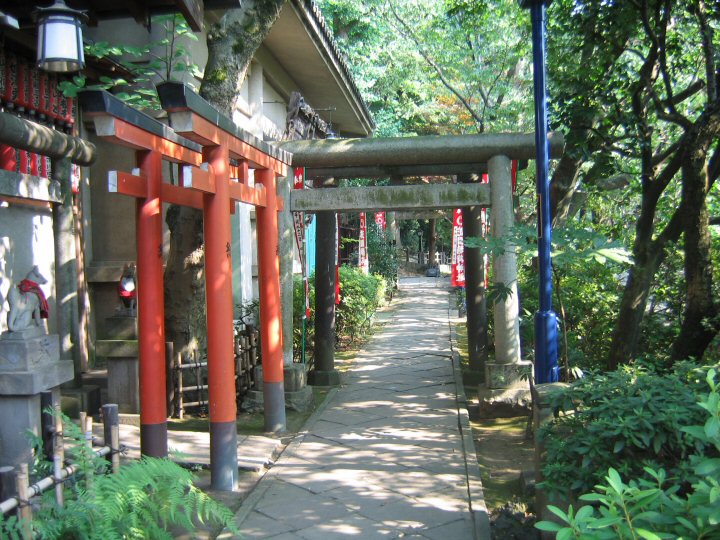 ...And with that photo, we are stepping out of Japan.
Whoa boy, was that a wild ride or what. We actually even fit all of our shoppings into our bags, but they had been pretty empty at the start anyway. It's also very useful to have your sister with you because that means you can both take 23 kg into the plane, meaning 46 kg for my shoppings! :D Almost needed all of that too.
Being a total geek, I had to once again take a photo of my shopping from Japan. (Click the photo for a bigger version)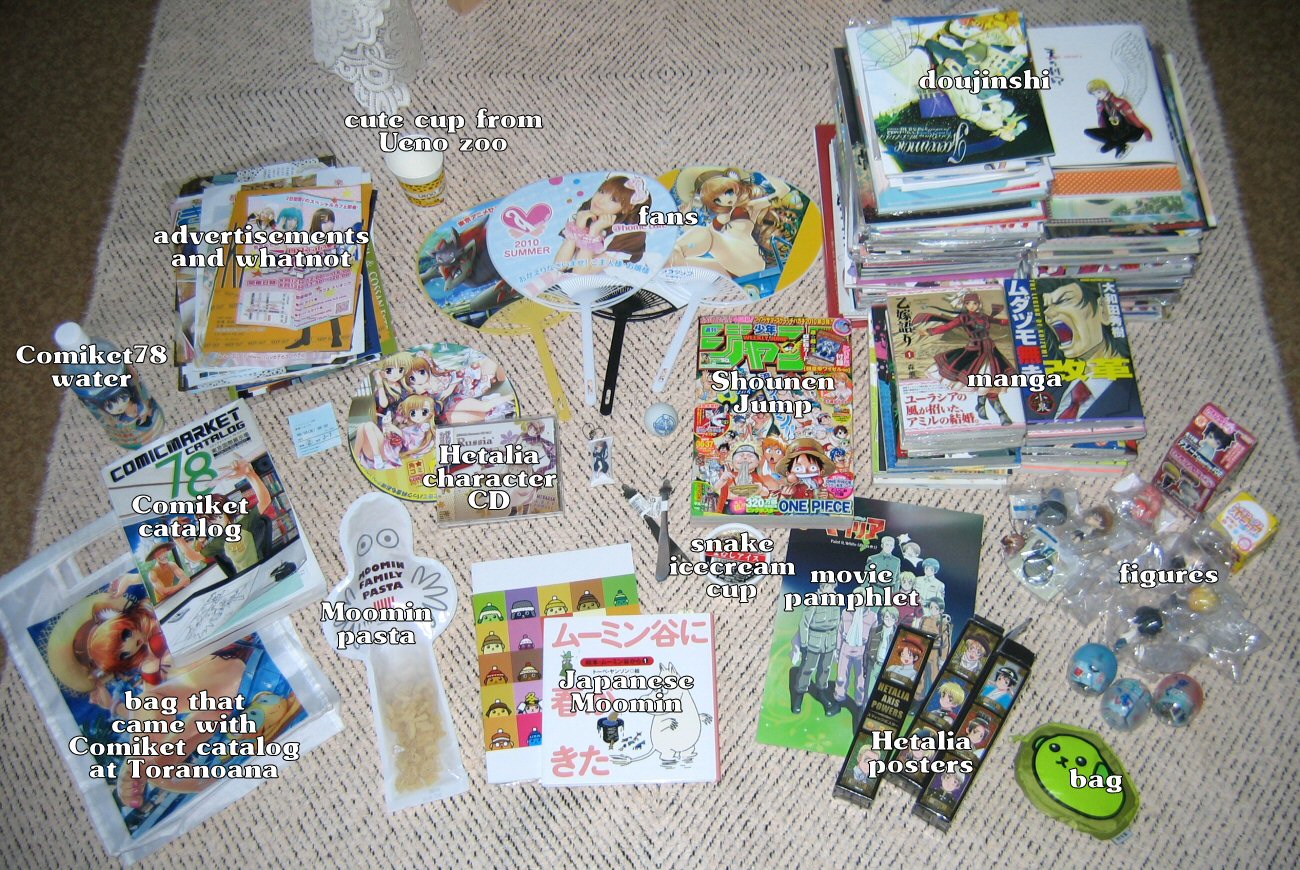 A very good trip doujinshi-wise, though I would have bought much more had I not run out of money... 139 doujinshi came home with me, with this series count: 122 x Hetalia, 7 x Harry Potter, 2 x Watchmen (!), 2 x Sherlock Holmes, 1 x Moomins (!!), 1 x Evgeni Plushenko (!!!), 1 x Bleach, 1 x Bakuman, 1 x Toradora! and 1 x Keroro Gunso.
And that manga pile contains Otoyomegatari volumes 1 & 2, Hetalia 2 & 3, Legend of Koizumi 1 & 2, Oyasumi Punpun 2, Saint Young Men 1 & 2, Chibisan Date1 and Yami no matsuei 12.
I got my Hattifattener macaroni~ \(>v<)/ They're shaped like hattifatteners, Little My, Snufkin and Moomintroll. ♥ Will never be eaten.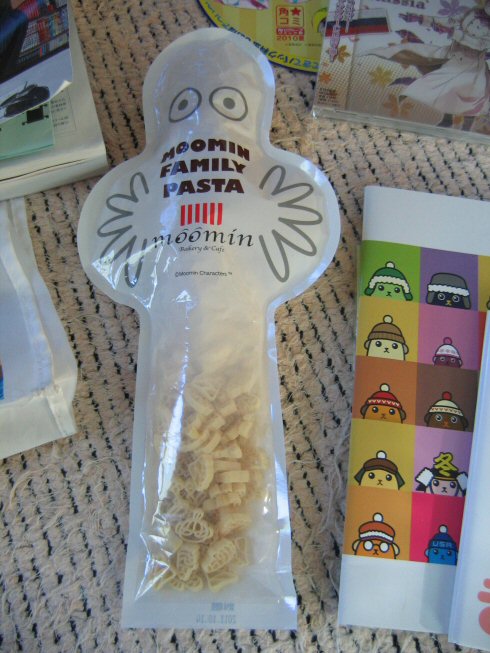 The snake ice cream box came home with me.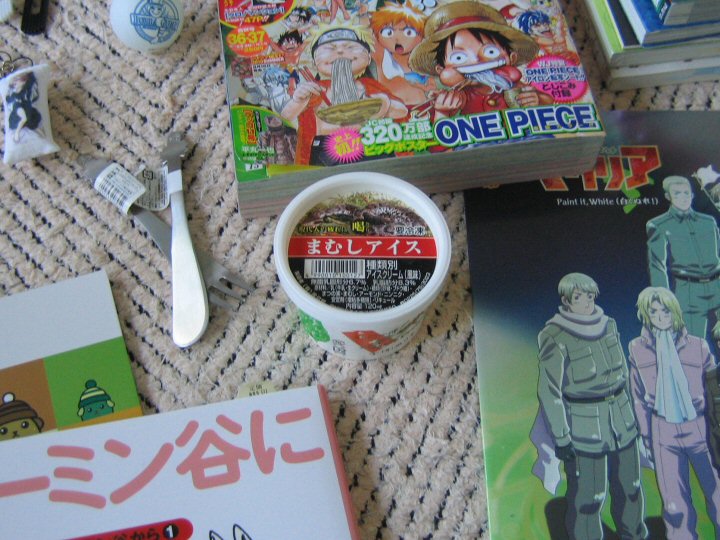 For those curious, this is what a Comiket map looks like. You get a couple of those with the catalog (only for two days though, why not put one more to get all three days?), I totally learnt to navigate with it too. \o/ This side shows East halls 4-6.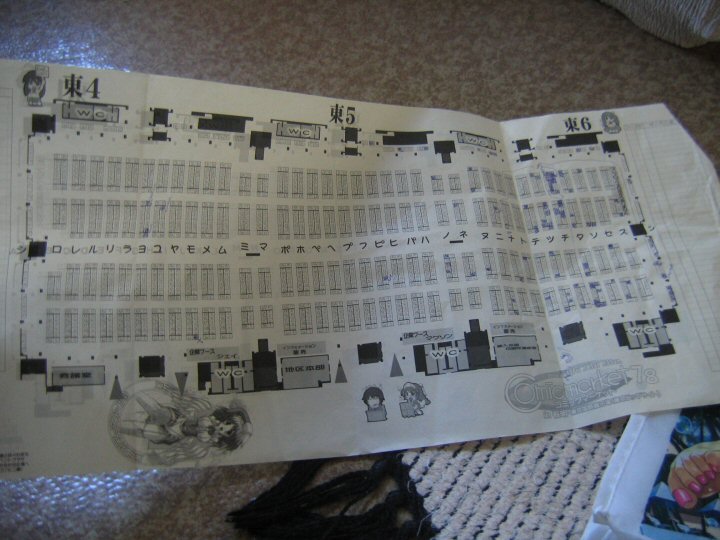 And that's all, we've run out of photos. (What do you mean, "phew"?) Thanks for the ride people~
^^ Back to top